Replacement Jar
& Lid for Model 15BL69 PBB20
by Patricia Weiss
(Lincolnwood, Il 60712)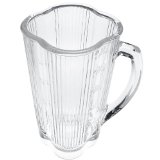 Question:


I need a replacement glass jar and lid for my Waring Professional Bar Blender Model 15BL69 PBB20.
Answer:
These are replacement parts for the Waring 15BL69 PBB20 Bar Blender. Also Fits Waring PBB series and the MBB series blenders.
Replacement Glass Jar:
Waring 003573 Blender Glass Clover Leaf Jar
Replacement Glass Jar Cover:
Waring 004315 Blender Clover Leaf Cover for Glass Jar, Black
Replacement Stainless Steel Jar & Lid:
Waring CAC35 Stainless Steel Jar with Blending Assembly
Replacement Washers:
Waring 003509 Blender Rubber Washer, 3 Gaskets Are Required
Replacement Cutter Blade:
Waring 7314 blender cutter blade.
Join in and write your own page! It's easy to do. How? Simply click here to return to Review.