Cuisinart CPC-600
Electric Pressure Cooker Buyers Guide
---
Cuisinart CPC-600 Electric Pressure Cooker Review
---
Cuisinart CPC-600 1000 Watt 6 Quart Electric Pressure Cooker, Brushed Stainless and Matte Black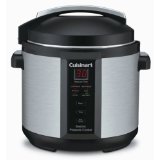 Additional Merchants, New & Used
Cuisinart Model CPC-600 1000 Watt 6 Quart Electric Pressure Cooker. A pressure cooker can reduce cooking times by up to 70% when compared to your more traditional stovetop cooking. Comes with easy to use push button controls, and easy to read digital display, and a precision thermostat for regulating cooking temperatures. Various settings from high pressure cooking, low pressure cooking, simmering, sauteing, browning, to warming. Some of the features includes a 99 minute timer that includes an LED countdown display, handles that are cool to the touch, nonstick cooking pot and trivet that are also dishwasher safe. Unit comes with a 3 year limited warranty and measures 12 1/5 inches x 12 1/5 inches x 13 1/5 inches.
Much faster and healthier cooking results as the unit's tight seal will lock in vitamins and minerals to give you more nutritious and better tasting meals. Cooking with a pressure cooker also requires less water and the food textures and taste are superior. The pot is large enough for a full sized pot roast with all the sides. Cooking times are generally 1/3 to 1/2 traditional cooking times. You will need only about half the water used for traditional cooking methods also.
To provide you with safe cooking, the pressure cooker must be completely locked for the pressure to build, and will remain locked until the inside pressure reaches zero. Unit is housed in brushed stainless steel that is fingerprint proof to make keeping it clean much easier.
You get 7 safety features. An open & close lid safety device, pressure control device, pressure limit value, anti-block cover, pressure relief device, thermostat, and a thermal fuse.
The Cuisinart CPC-600 Electric Pressure Cooker comes with a recipe book that covers appetizers to desserts. Some of the recipes included are an artichoke appetizer, ginger steamed pears with vanilla bean mascarpone cream, hummus, lemon cheesecake, wheat berry & vegetable salad, chicken with herb dumplings, green beans with shiitake mushrooms, corn pudding, risotto primavera, and cuban black bean soup.
PROS:
Better tasting food
Faster cooking times
Nonstick for easier cleaning
Many safety features for safe cooking
High tech appearance
Large capacity
Very quiet unlike regular stovetop pressure cookers

Summary:


Excellent choice for a pressure cooker if you are looking for one that is quiet, cooks fast, easy to clean, and has 7 different safety features. You cannot go wrong buying the particular unit.


Often Purchased Together

Cuisinart 5 Piece Measuring Spoon Set, Black
Zojirushi EB-CC15 Indoor Electric Grill
Cuisinart Blade and Disc Holder
All-Clad 99009 Stainless-Steel 6-1/2-Quart Slow Cooker
Cuisinart CEC-7 Egg Cooker
The Best Pressure Cooker Cookbook Ever
Pressure Perfect: Two Hour Taste in Twenty Minutes Using Your Pressure Cooker
The New Pressure Cooker Cookbook
---
Write A Review Here
If you would like to write a review please fill in the form below. For questions go to the contact us form.

---
Related Buyer Guides & Reviews
Small Appliances Buyer Guides | All-American Pressure Cooker/Canners | Canning Kits | Cuisinart CPC-600 Electric Pressure Cooker | Mason Jar Buyer Guide | Mirro Pressure Cooker/Canners | Presto Canner & Pressure Cookers
---