Oster Hand Blenders
---
Oster Hand Blenders Reviews
---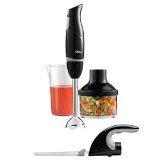 Oster 2619 350-Watt 3-in-1 Hand Blender, Chopper, and Slicer, Black
The Oster 2619 hand blender has a 350 watt motor. This is a 3 in 1 electric knife, mini chopper, and of course a hand blender. Not only do you get excellent performance out of all 3 functions including cutting, chopping, and blending. But you also get a blending/measurings cup with this unit.
---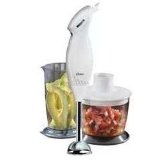 Oster Model 2605 Hand Blender with Chopper - White
This Eggshell White hand blender by Oster is model 2605, a two speed unit with a 250 watt motor to give you great long lasting service. Comes with a food chopper and a whisk attachment for those specialized jobs. Also has a stainless steel blending rod that is detachable, a non-skid base, stainless S-blade, and a dual purpose lid.
---
Oster 2-Speed 250-Watt Hand Blender Model 2614
This Oster model 2614 has a 250 watt motor and 2 speeds for outstanding work in the kitchen. For your comfort the unit is ergonomically designed. Items included are a storage cover, product manual, measuring cup, and a blending cup. Unit measures 4.8 inches by 17.2 inches by 5 inches.
---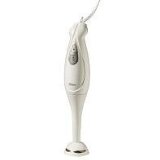 Oster 2609 250-Watt Variable Speed Hand Blender, White with Sterling Silver
Additional Merchants, New & Used
This is Oster Model 2609 in White and Sterling Silver. Combines a 250 watt motor with variable speeds to make this a very versitle hand blender. To provide comfort while using it is eronomically designed. Items that come with it are a blending cup, storage cover, and a measuring cup.
---

Oster Hand Blender with Chopping Attachment and Cup (White)
This is a White Oster multitask hand blender. You get exceptional performance with the 250 watts of power that this motor delivers. Blender includes a dual purpose lid that serves as a cover for when storing and also a base that is nonskid, a blending & measuring cup, blending rod that is detachable, and a chopper attachment. Verstaile blending with a Hi/Low setting on this variable speed dial. Also has durability with the S-blade that is made of stainless steel.
---
Write A Review Here
If you would like to write a review please fill in the form below. For questions go to the contact us form.

---
Buying Guides
Small Appliance Buyers Guides | Oster Hand Blenders
---