Best Microwave Oven Reviews
---
Best Microwave Ovens
---
#1
Haier MWM0701TB Compact 2/3-Cubic-Foot 700-Watt Microwave Oven, Black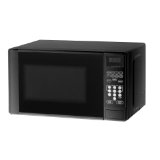 This is the Haier MWM0701TB Compact 2/3-Cubic-Foot 700-Watt Microwave Oven in Black. Reasonably priced, yet very versatile and plenty of features. Unit has ten different power levels with a defrosting setting and soft touch electronic controls. You also have 8 auto cook menu settings for various foods such as soup, pizza, potatoes, and popcorn. Designed with a child safety lock and a pull handle. Other features include a digital clock and timer with an add 30 seconds option. Comes with a one year limited warranty. Unit measures 11.5" x 19.2" x 14.2".
---
#2
Panasonic NN-H765BF Full-Size 1.6-Cubic-Feet 1250-Watt - Black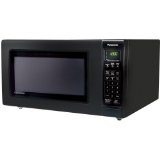 This model has 1250 watts of power and a 15" turntable. It has a more/less control, 1-touch sensor cooking and multiple options such as a turbo defrost and a keep warm option.
---
#3
Panasonic NN-SD277BR 2-Cubic-Foot 1200-Watt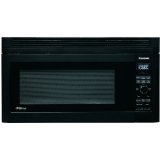 This Panasonic NN-SD277BR Over the Range model has a 12" turntable and 1200 watts of cooking power. Its one touch sensor cook and reheat option as well as the 10 power levels it allows makes this a wonderful choice. Easy programming provided by the LED readout on the push button control panel that offers a pop out dial. Other features include a keep warm mode, inverter turbo defrost, delay start and timer, popcorn kely, and quick minute function. Unit measures 15-2/5' x 29-8/9' x 16-2/5".
---
#4
Sharp R-420LW Family Size Countertop

This smaller 1100 watt model has a 1.4 cubic foot capacity. It includes a keep warm for 30 minutes option as well as accurate sensor cooking and the much desired one touch popcorn key.
---
#5 Best Microwave Oven

Magic Chef 900 watt Model MCD990R

This 900 watt model is perfect for dorms and other small apartments. It has easy pre-programmed one touch options for popcorn, frozen pizza and single person dinner plates. Its specific defrost options for meat, poultry and fish as well as the child safety lock makes this model perfect for any student or small family.
---
#6
Panasonic Prestige NN-SD688S, 1.2 Cubic Foot 1300 Watt Sensor Microwave Oven in Stainless Steel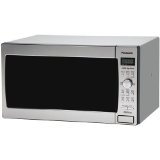 This is the Panasonic Prestige NN-SD688S with 1.2 Cubic Feet of interior space. Unit has 1300 Watts of power and is a Sensor Microwave Oven in Stainless Steel. This unit has a push button control panel with a pop out dial making it easy to program. It comes with a mult-lingual screen and one touch sensor cooking. Provides 10 different power levels with a delay start and a timer. Family size 13.5 inch turntable with quick minute and a popcorn features. Unit comes with a one year limited warranty and measures 16" x 20.5" x 12".
---
#7
Sharp R-120D Half Pint
This little Sharp Half Pint R120PK Microwave Oven is perfect for any RV, Semi-Truck or small apartment. It has 8 automatic settings and a 10" turntable that can accommodate full sized dinner plates. The entire unit measures only 14.13" High x 14.38" Wide x 14.25" Deep. Features include reheat and defrost settings, automatic popcorn, and cook settings. Unit provides you with 600 watts of power and comes with a one year limited warranty.
---
#8
Panasonic NN-SD377S 0.8 Cubic Foot, 800 Watt Stainless Steel Microwave Oven, Auto Cook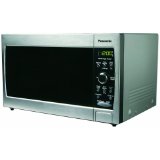 This is the Panasonic NN-SD377S which has 800 watts of cooking power and an interior of 0.8 Cubic Feet. Housing has a Stainless Steel finish and the turntable is 9 5/8". Features include 6 different power levels with one touch sensor cooking which will provide for excellent reheating and cooking. Other features include a delay start, timer and quick minute, 3 cooking stages, and a popcorn free. Unit measures 19" x 14.3" x 11.1".
---
#9
DAEWOO 1000 Watt 0.9 Cubic Foot Compact with 2-Slot Toaster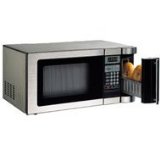 The Daewoo KOG867T9 provides you with 1000 watts of turntable cooking power and 10 power levels making this is a wonderful compact model. It offers 6 one touch buttons and 5 auto-cook cycles. The unit measures 14.1" x 25.7" x 18" and also has a 2 slot toaster with a choice of four browning levels.
---
#10 Best Microwave Oven
Sharp R-820JS 0.9-Cubic Foot Grill 2 Convection - Silver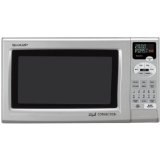 This Sharp R-820JS 900 watt microwave also offers a 1500 watt grill and convection oven all in one! It offers 11 power levels, 7 automatic settings and double grills. The 12.75 inch turntable provides even heating in the 0.9 cubic foot lighted interior. Unit is constructed of stainless steel and measures 23.2" x 22.2" x 15.5".
---
Microwave Oven Reviews
Small Appliance Reviews | Best Microwave Oven Reviews | Emerson | GE Convection | LG Convection Model LMVH1750ST | Nordic Ware Accessories | RCA | Sanyo | Sharp | Sharp Convection
---
Write A Review Here
If you would like to write a review please fill in the form below. For questions go to the contact us form.