Waring
Deep Fryer Buying Guide
---
Waring Deep Fryer Reviews
---
Waring Pro DF250B 1800-Watt Deep Fryer - Brushed Stainless
Waring Pro DF250B Deep Fryer has 1800 watts of power using an immersion-style heating element with protector. Capacity is 2.2 pounds of food. Other features and items include a collapsible cool-touch handle, safety interlock system, domed lid with a condesation catcher, heavy mesh basket, 3 foot breakaway cord, brushed stainless steel body, and overload automatic shutoff protection.
---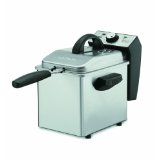 Waring Pro DF55 Professional Mini 1-2/7-Pound-Capacity Stainless-Steel Deep Fryer
Waring Pro DF55 Professional Mini Deep Fryer with a stainless steel housing and a capacity of 1 2/7 pounds of food. This deep fryer has an oil box that is easy to clean as you can remove it from its base and it is dishwasyer safe. Fryer features include a 1500 immersion style heating element, cool-touch handle, power and ready indicator lights, 2 quart oil container, and has a detachable basket handle. Easy to use and easy to wash, this fryer is very user friendly.
---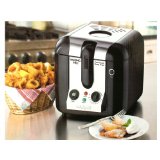 Waring Pro WPF100BPC Deep Fryer
Waring Pro WPF100BPC Deep Fryer features a cool-touch housing, 1800 watts of frying power, and an electronic LCD timer. Housing is made of stainless steel and has a frying bowl that has a capacity of 3/4 gallon of oil. The control panel and heating element are both removable for easy cleaning. So are the frying bowl, lid, and basket.
---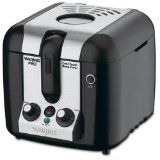 Waring Pro Refurbished DF100 Cool-Touch 3/4-Gallon Deep Fryer, Black with Stainless Accents
Additional Merchants - Refurbished
Waring Pro DF100 is refurbished with an immersion-style stainless steel heating element and has a capacity of 3/4 gallon of food. Safety features include a breakaway cord, and cool-touch exterior. Features include a large frying basket, 60 minute timer, removable stainless steel bowl and control panel, and LED indicator lights for on and ready. Comes with a one year limited warranty.
---
Waring Compact Fryer 8.5 Pound
Waring compact deep fryer with a capacity of 8.5 pounds. Housing is constructed of stainless steel. Features include twin steel wire baskets with a capacity of 3 pounds, removable hinged heating element, 30 minute timer, and adjustable thermostat. Designed for occasional light duty only. Comes with a limited one year warranty.
---
Waring Deep Fryer Replacement Parts
Waring 502846 Deep Fryer Basket
Waring 026653 Basket Handle Part
- fits models DF200.
Waring 028372 Cord
- fits models DF250.



---
Write A Review Here
If you would like to write a review please fill in the form below. For questions go to the contact us form.

---
Related Buyer Guides
Small Appliance Buyer Guides | Aroma Deep Fryers | Cuisinart Deep Fryer Buyer Guide | DeLonghi Deep Fryers | Maxi-matic Deep Fryers | Presto Deep Fryers | Sensio Bella Cucina Deep Fryers | T-Fal Deep Fryers | Waring Deep Fryer
---